Grampian Marine
Grampian Marine Mk 1
Boat Number Range: 710-835
Date: 1964-1967
Fiberglass laminate construction. No stern deck. High crowned transom with sliding track traveller on top. Teak splash rail on bow deck with small wood web at centerline joint. Fitted with non-tapered aluminum masts. Full width centerboard trunk (1" wide). Originally fitted with aluminum centerboard (˜ 20 lb) with plywood cheek plates. Rope centerboard pennant. Many boats retrofit with home made wood centerboards. Bench seats made from teak with air bag flotation. Two large blocks of Styrofoam flotation installed under bow deck. Centerboard cap and thwart made from teak. A 2 x 3" aluminum builder plate with boat number stamped in is installed on aft part of centerboard cap. These plates are frequently lost or corroded to point of being illegible on older boats. Many early boats had large forged bow eye on bow stem until these were banned in the class rules.
Grampian Marine Mk 2
Boat Number Range: 2000-4999
Date: 1967-1972
Similar deck and hull to Mk 1, but seats in Mk 2 are constructed in fiberglass laminate and form flotation tanks, Bow has a full bulkhead with large circular cut out just ahead of the mast. Teak centerboard cap, thwart and splash rail.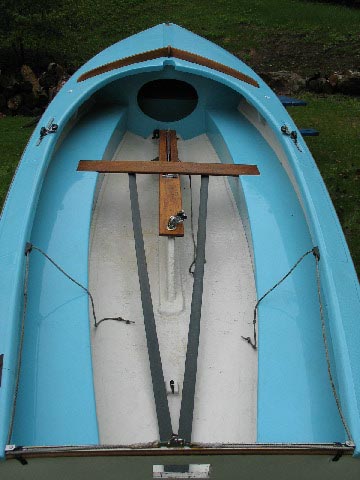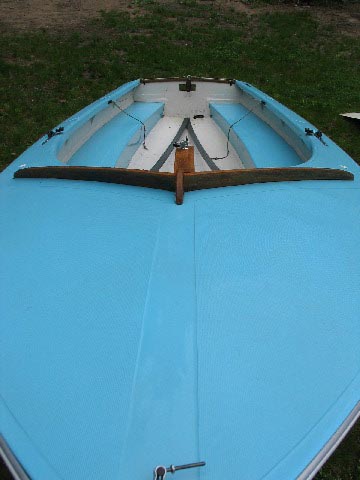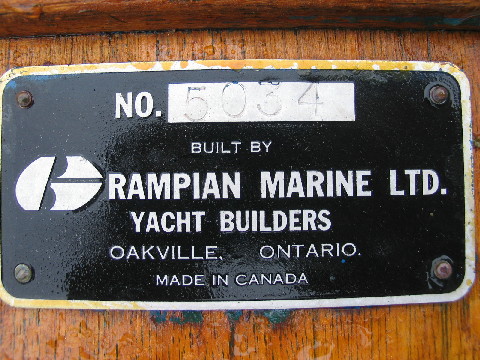 Grampian Mk 2- number unknown. In rough condition. Thwart missing.