Skene
Skene Mk 1
Boat Number Range: 1904-1914, 2405-2449 and 4100-6700
Dates: 1968-1979
Fiberglass laminate construction. Aft edge of foredeck laid out as a smooth and continuous curve from side deck where the shrouds pass through to the aft edge of mast partners and on to the other side deck. Fiberglass thwart, fiberglass seats used as buoyancy tanks. Thwart set well aft in cockpit and additional braces (look like small thwarts) between front of centerboard case and seat tanks. Centerboard case is of constant height ahead of thwart (not rolled to floor as on Mk 2). Bow tank had a small lip at aft edge to help retain items stored on half-height tank. Interior gel coat often a grey speckled finish. Small round transom ports were common. Made in a wide variety of hull and deck colours.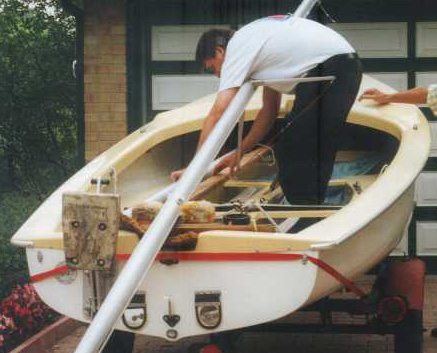 Skene Mk 1 - #6040
Skene Mk 2
Boat Number Range: 6800-7310
Dates: 1978-1983
Hull molded off official Canadian Standards plug. Aft edge of foredeck laid out in straight segments from side deck to aft edge of mast partners and on to other side deck. Decks and seats use same colour for anti-skid and smooth areas. Typically equipped with a tapered proctor D section aluminum mast and round aluminum boom. 3/32 inch standing rigging. Highfield lever jib halyard tensioner. Natural finished mahogany centerboard and rudder. High end boats were occasionally equipped with Mark Lindsey foils. Boats frequently developed chronic seat tank to hull joint problems after 10-15 years but can be fully restored with additional fiberglass to rebond the flange joint.. Most hulls white or off white with 6-8 deck/seat colour options.
Interior gel coat often a grey speckled finish. Small round transom ports were common. Made in a wide variety of hull and deck colors. Detailed photos of Skene Mark 2 (#6781)